Open Future for Mobility Experience
An extreme scale Open Platform for in-vehicle Delivery of AI Services and Applications for connected cars and mobility
PROBLEM
The shift from ownership to shared mobility will have a profound economic impact and mobility platform providers will capture most of the profit.
New generations of users expect mobility experience to be personal, seamlessly integrated, and connected and desire alternative mobility options.
Current OEM platforms are closed & proprietary. Autonomous driving and connectivity demands immense computing power. It is hard to make sense of large volumes of rich & continuous data coming from the car, the user behavior and the environment.
OPPORTUNITY
Cars are becoming digital, connected, autonomous and shared. In-vehicle technology shares data with other vehicles and platforms. 5G and V2X connections are a reality. Electrical vehicles are already on the roads.
SOLUTION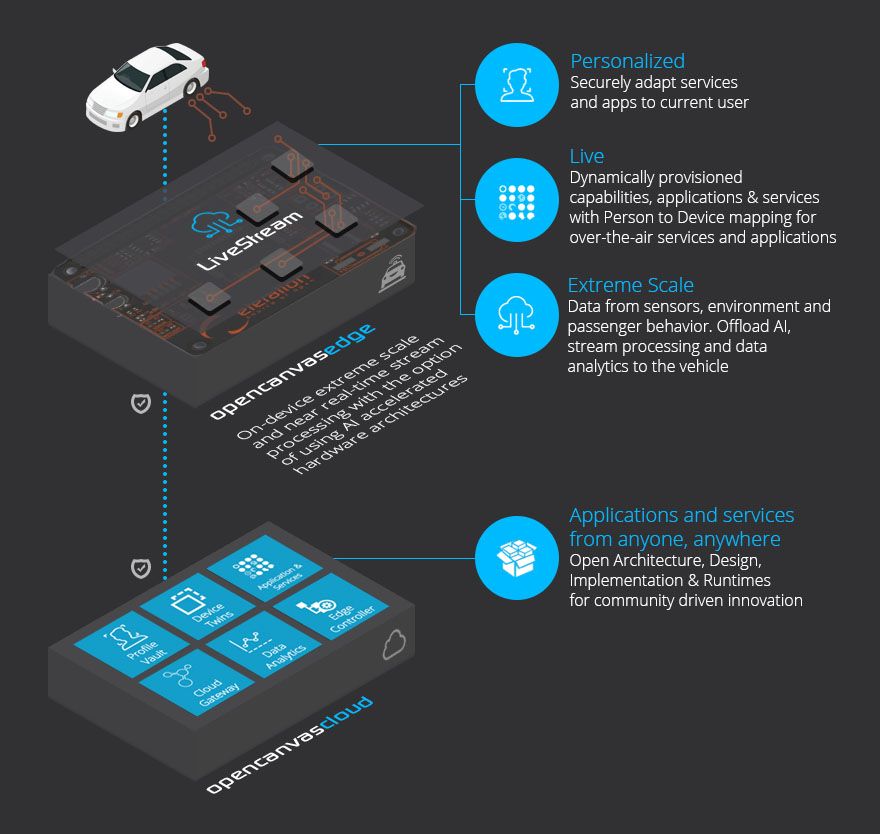 We believe the future of mobility experience will be driven by open technologies and collaboration.
On-device extreme scale and near real-time stream processing with the option of using AI accelerated hardware architectures
Offload AI, stream processing and data analytics to the vehicle
Personalized & dynamically provisioned capabilities, applications & services with Person to Device mapping for over-the-air services and applications
Based on containers and Kubernetes
Applications and services from anyone, anywhere; Open sourced Architecture, Design, Implementation & Runtimes for community driven innovation
Secured and verified nodes, devices, containers and storage with Certificates in secured key stores. Secured connectivity with mutual TLS
WHY PARTNER
For OEMs, mobility and connectivity solutions, our product provides ready, scalable, expandable platform that has edge computing, on the air service & application provisioning.
No lock-in; Our product has open APIs, Services, and Hardware Design.
ADVANTAGE
Personalized; Our platform is specifically designed for personalizing the passenger experience with on-demand application and services delivery
Edge; In-vehicle AI platform
Extreme scale; Helps make sense of large volumes and variety of behavioural, diagnostics and contextual data offline
Open; APIs, Architecture & Technology
ACHIEVEMENTS
We have delivered solutions for our customers in three continents, for over fifty international companies from six diverse industries for more than 17 years
DMA -Turkey's first electric vehicle maker awarded with EU All-Electric Vehicle Type approval certification are fitted with OpenCanvas turning data into meaningful energy management insights
IGA – Istanbul Grand Airport Electric Trucks servicing aircrafts are fitted with OpenCanvas help bring data insights and charge scheduling for non-stop operations